Notebook 4 - Solar outside
The following script is used to edit the solar access lattice to have values based on the number of facades each voxel has. First, a check for neighbours is done for each voxel. Where no neighbour is found a facade is needed. After this step, we remove any facades counted for voxels with z=0 that found facades where the ground is expected. Then the solar access values are scaled by the facade count and the new data is exported as a CSV.
---
Flowchart
The flowchart as shown in Figure 38 is in the first (purple) section of the fundamental flowchart as shown in the Planning - products.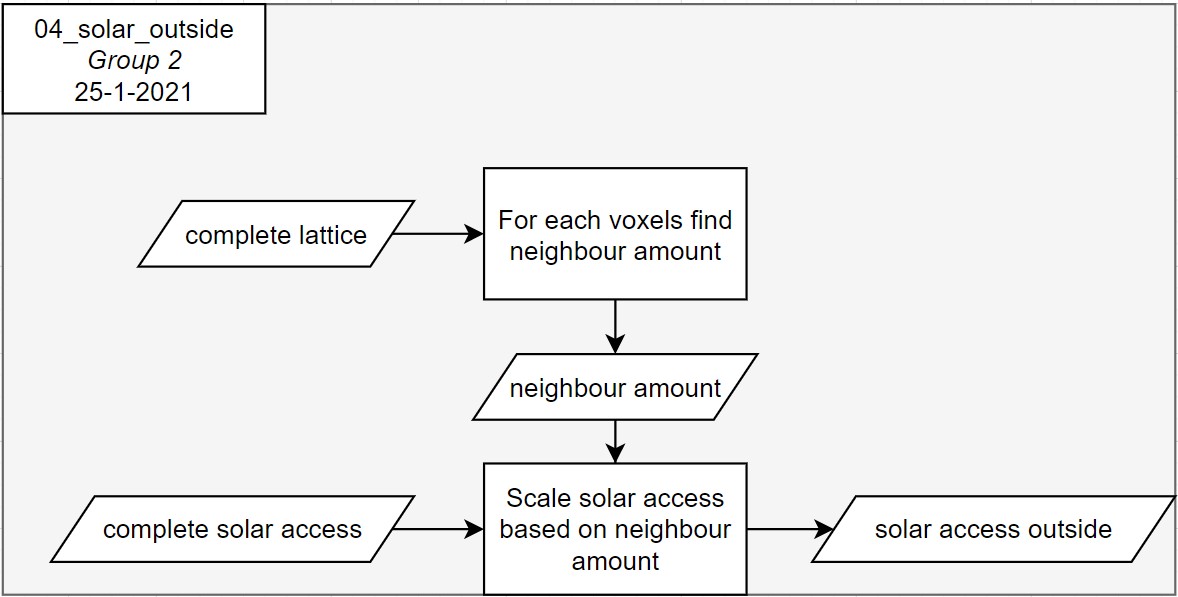 ---
Additional diagrams
Figure 39 shows the solar outside system, inner voxels have no value and the value of the outer voxels is influenced by its amount of facades.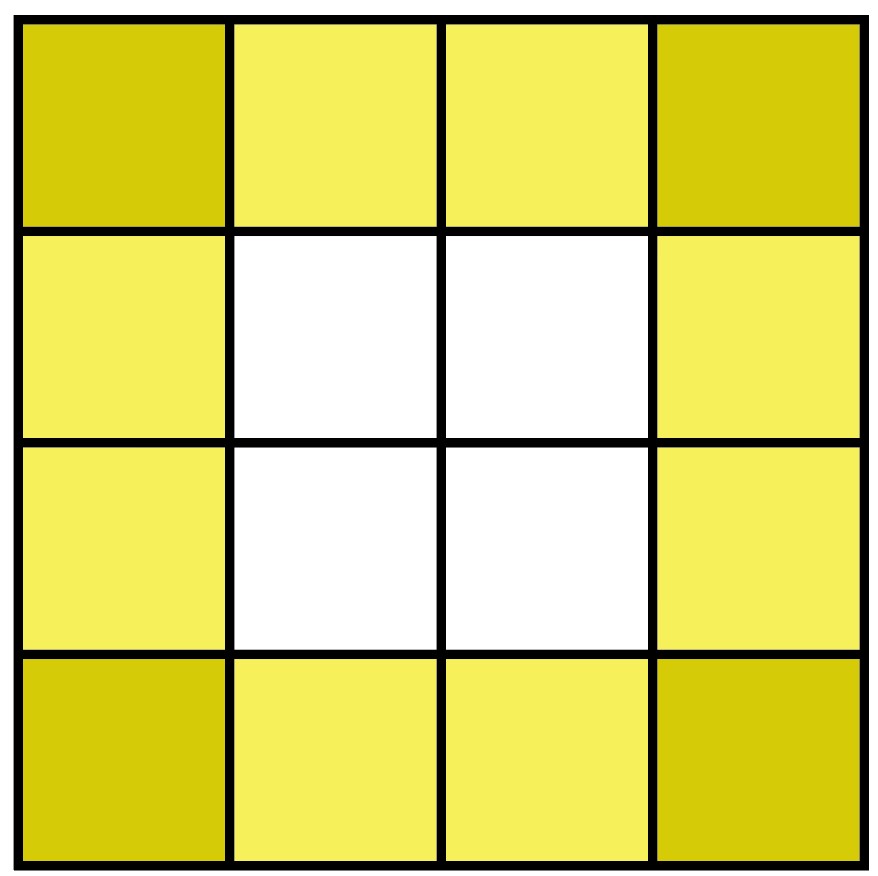 ---
Pseudo code
This is the Pseudo code for Notebook 4.
#Load the complete lattice and complete solar access





#Initialize a coordinates list




for

 

each

 

voxel


    

add

 

[

x

,

 

y

,

 

z

]

 

to

 

coordinates





#Find neighbouring voxels




base

 

result

 

=

 

6

 

(

faces

)




for

 

each

 

coordinate


    

for

 

each

 

direction

 

(

x

,

 

y

,

 

z

)(

-

1

,

 

+

1

)


        

check

 

if

 

[

x

,

 

y

,

 

z

]

 

are

 

in

 

coordinates


        

if

 

True


            

#no facade here


            

result

 

-=

 

1


    

Establish

 

result

 

list

 

as

 

[

x

,

 

y

,

 

z

,

 

result

]





#Disregarding the ground as a facade




for

 

each

 

voxel

 

in

 

result

 

list


    

if

 

z

 

==

 

0


        

#remove earlier found ground facade


        

result

 

-=

 

1


    

#scale result so max = 1.0


    

result

 

/=

 

6





#Scaling the solar access list




for

 

each

 

voxel

 

in

 

result

 

list

 
    

solar

 

access

 

value

 

at

 

[

x

,

 

y

,

 

z

]

 

*=

 

val





#Export the solar access lattice




Export

 

solar

 

acces

 

to

 

'solar_access_outside_3_6.csv'



---
Last update:
January 27, 2021